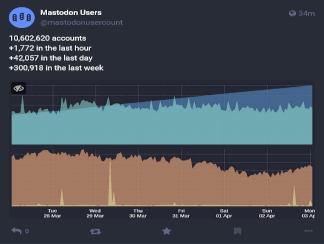 It's remarkable how quickly the situation described below is changing:
There are several factors contributing to this , the most persistent being the continual degradation of user experience and safety at Twitter. But also the spreading word that #Mastodon supplies ample tools for crafting individual and purpose built feeds- no coding required. With the now rapidly expanding user base of music fans will come that desired influx of musos, bands and supporting orgs. Things that originally looked to be a couple of years out (see below) may be in evidence in about four to six months or so . That folks…is huge.
---
We had no problem leaving Twitter for Mastodon. The problem now with Mastodon for musicians is that there is literally no one there. As much as I like Mastodon – and I really do , it's not a ready made communication channel for musicians or those looking to be plugged into the studio or touring scene. If your a journo or in the sciences the situation is rapidly improving , but for working musicians it's an empty room. From the general vantage point of Mastodon admins engagement on the platform is excellent, but the more highly specified your subgroup is the more quickly that engagement falls off to zero. The potential for an engaging vibrant community of musicians and fans to grow and thrive on the platform is excellent given proper time – that being two or three years.
For anyone truly concerned about the life of their democracy leaving Twitter is/was easy. Ownership went full fascist and there is nothing to be done. The problem is that if you wanted a pro democracy snow white to go to Mastodon is it. Every other platform has at least one fascist/racist billionaire leader in the wings looking for a way to get more fascists/racists elected to Congress while paying no taxes. Facebook/Meta/Instagram are just below Twitter on that list. YouTube (a Google property) is a bit laggard in the fascism department. No one knows how long that will hold up but right now your going to do better utilizing YouTube resources to grow and extend your messaging. That's probably true whether it be production , songwriting, touring or general messaging.
I say this with a grimace , but Instagram may be the necessary second half of that duo. Have never been on there but the music community is there in the large. So when you are actually working on projects the pool is just much larger. What we're after is viable mediums with inbuilt working populations of both musicians and fans.
For a brief flicker there was hope that the light bulb would go on in the large regarding the importance of decentralized platforms and federated infrastructures that are inherently immune to things like a Twitter-Musk bomb. YouTube and Instagram are definitely not that. They are highly centralized and thus vulnerable. It's a puzzle most of us have to solve literally right now , not two years from now.